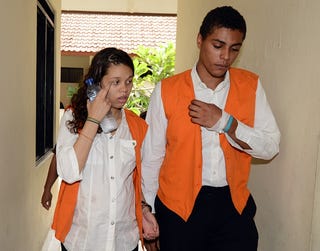 Prosecutors in Indonesia are looking into online videos apparently posted by a Chicago woman who was sentenced to 10 years in the 2014 murder of her mother in Bali to determine whether to impose a tougher sentence, Reuters reports.

As the newswire notes, Heather Mack was convicted along with then-boyfriend Tommy Schaefer in the murder of her mother, Sheila von Wiese-Mack, whose body was found stuffed in a suitcase in a taxi outside a luxury hotel on the resort island.
In a series of three videos uploaded to YouTube on Feb. 2, Mack, 21, said that she had asked Schaefer to find someone to kill her mother but he refused.
"I don't regret killing my mother ... but I regret bringing Tommy into it. Tommy is an innocent man," she said in the video, adding that while Schaefer was innocent of the murder, he helped hide her mother's body in the suitcase because she threatened to tell police that he had committed the crime.