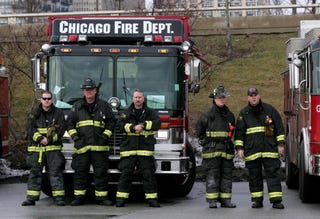 The Chicago Fire Department must hire 111 black firefighters, who passed the department's entrance exam in 1995 but were told that the city had established a cutoff score and would only randomly hire the most qualified candidates. The U.S. Circuit Court of Appeals has also rewarded "tens of millions of dollars" to 6,000 other applicants who passed the test.
"The city gave a test back in 1995 that did not measure the ability to be a firefighter. It made it more than six times more likely that white applicants would be hired rather than African Americans with no job-related justification. Nothing about getting a high score on that test predicted anything about whether you'd be a superior firefighter," said the plantiffs' attorney, Joshua Karsh, in the Chicago Sun-Times.
Read more about this at the Chicagoist.
In other news: Bin Laden Porn Stash? Videos Found During Raid.