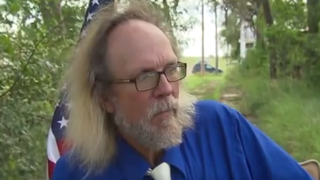 Ever wonder what karma looks like? For white supremacist Craig Cobb, it takes on the shape of his "church" going up in flames, with only the steeple left in the rubble.
Cobb's Zion Lutheran Church in Nome, N.D., burned Wednesday night, according to CNN.
Cobb purchased the church last year, and one member of the congregation told CNN that the small-town church was her home.
"My mom would clean it every week, and I would tag along and get up there and pretend to preach to an invisible crowd," Jill Pederson told CNN. "In a small community you are all family, and that church kept everyone connected in some way, and that is what will be missed the most."
Three years ago, Cobb caught the media's attention after he attempted to turn the North Dakota town of Leith into a white supremacist enclave and began buying up properties.