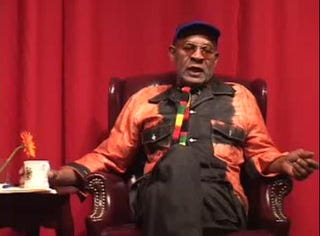 Born in Birmingham, Alabama, sculptor, teacher, and children's book author Lorenzo Pace is the direct descendant of slaves. His great-grandfather, Steve Pace, was kidnapped and forcefully brought to the United States in the early part of the 19th century.
Addressing our shared history of human enslavement is central to Pace's work. In 1991 the New York City government commissioned him to create Triumph of the Human Spirit, a granite monument to the remains of 400 slaves found buried in lower Manhattan and in 2001, he published Jalani and the Lock, a children's story that tells his great-grandfather's story.
In BOMB Magazine's BOMBLive! video interview with poet and playwright Patricia Spears Jones, filmed in the fall of 2005 at the New York Academy of Art in Lower Manhattan, Pace tells the story of his grandfather's journey and speaks about how difficult, but important, it is for Americans to address our bloody past. "Its like a sore," he explains "and the second you touch it you start to bleed."
—Adda Birnir
INTERVIEW:
Watch more of the interview on BOMBsite.com here.
Used with permission. All rights reserved. © Bomb Magazine, New Art Publications, and its Contributors.
FURTHER LINKS:
Triumph of the Human Spirit on Flickr