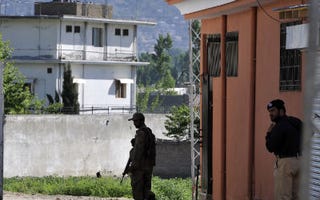 A sizable collection of pornographic material was among the array of evidence seized during the raid that resulted in terrorist leader Osama bin Laden's death in Pakistan.
According to Reuters, anonymous U.S. officials confirmed that Navy SEALS who conducted the "capture or kill" operation seized a box that was filled with "modern, electronically recorded video" of a pornographic nature. While stating that such discoveries are not uncommon during raids of terrorist operations, the sources say there's no concrete proof that bin Laden viewed any of the videos while secluded for years in his Pakistan fortress.
Read more at Reuters.
In other news: How Africans Want to Be Seen.

Like The Root on Facebook. Follow us on Twitter.