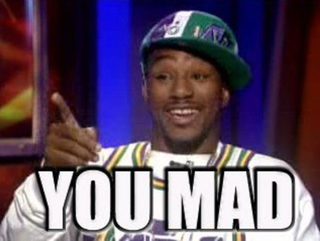 After more than 20 years, Fox News forced Bill O'Reilly out after a series of sexual harassment allegations came to light.
What's worse, after an internal investigation of O'Reilly's behavior, the company apparently found more. It all came to a head after an April 1 New York Times article revealed that Fox News and Twenty-First Century Fox had reached settlements with five women who reported incidents of sexual harassment totaling close to $13 million.
As O'Reilly's reign of terror comes to an end, I think it's informative to reflect upon those moments when he was almost impressive in his embodiment of white ignorance.

1. Sylvia's
Remember that time Billy Boy discovered that black folks can own a "classy" business?

"I couldn't get over the fact that there was no difference between Sylvia's restaurant and any other restaurant in New York City. I mean, it was exactly the same, even though it's run by blacks," he once said on his nationally syndicated radio show about a dinner with the Rev. Al Sharpton. "There wasn't one person in Sylvia's who was screaming, 'MF-er, I want more iced tea!'"

Yeah. He said that—and kept his job.

2. Ludacris
I first heard of O'Reilly in 2002 when he got Pepsi to drop an ad that included Chris "Ludacris" Bridges because of his "vile and woman-hating" lyrics.

This prompted Mr. Bridges to begin the song "Number One Spot" with the verse, "Respected highly, hi Mr. O'Reilly/Hope all is well, kiss the plaintiff and the wifey … "

I find it ironic that the week Billy Bob is fired, Ludacris is in the biggest movie in America and Pepsi is still trying to figure out how its "Pepsi can fix racism" ad went wrong.