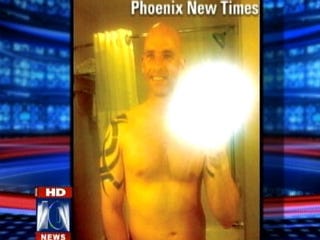 A prominent Arizona sheriff and congressional candidate has stepped down from his post in the Mitt Romney campaign after he was outed as a gay man and accused of intimidating an ex-lover, according to My Fox Arizona.
Paul Babeu, a rising star in political circles and the Pinal County sheriff, is currently running for Congress, but his campaign may have been derailed earlier this week when seminude pictures of him surfaced on a website for gay men.
Babeu's profile, which said he was seeking other men for sex, has forced the congressional candidate to answer some tough questions. In a press conference on Saturday, he confirmed that he is gay after the story, in which an ex-lover claimed that threats were made against his immigration status, was published in the Phoenix New Times.
The ex-lover, who goes by the name of Jose, is Mexican. According to Fox News, Jose said that when he refused to sign an agreement to keep their relationship private, Babeu, who is one of the country's most adamant anti-immigration voices, said via a lawyer that a scandal could lead to deportation. Babeu denies this accusation.
Whether or not the allegations are true, expect Babeu's career go into a downward spiral as he realizes how the party that supported him so adamantly in the past won't now because of something as inconsequential as his sexual orientation.
Read more at My Fox Arizona.
Like The Root on Facebook. Follow us on Twitter.