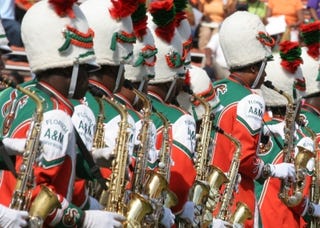 Four members of the Florida A&M marching band have been arrested in the beating and hazing of pledges of a marching-band club called the Clones. The incidents took place around Sept. 1 in three or four reported initiation meetings in a house about a mile from the campus. One of the pledges took photos of her bruises and quit after the first meeting.

The five pledges were lined up according to height and then subjected to beatings. They were "forced to exercise, play music and were either punched, prepped and/or paddled," police said.

The four students arrested were Denise Bailey, 22; Brandon Benson, 23; Hakeem Birch, 21; and Anthony Mingo, 22. All were booked on a misdemeanor hazing charge and released. They have all denied that the hazing occurred.

In November, FAMU drum major Robert Champion's death as a result of hazing shocked the HBCU community and brought hazing into the national spotlight. His death was ruled a homicide after it was determined that he had suffered blunt trauma and died from shock after severe bleeding.

Band Director Julian White was fired; FAMU President James Ammons was almost fired, but the board of directors saved him from the Florida governor's efforts to fire him.

Read more at USA Today.