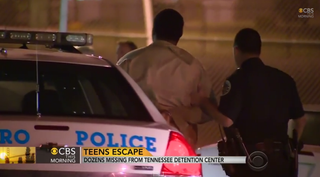 The Woodland Hills Youth Development Center—a detention center in Nashville, Tenn.—is back to relative calm after more than 30 teens escaped Monday by crawling through a weak spot in a fence, the Associated Press reports.
According to the report, two of the teens, who range in age from 14 to 19, were captured almost immediately, while others were picked up overnight. Some were detained by the authorities, while others turned themselves in or were turned in by their parents. About nine individuals remained on the run as of Tuesday morning.  
Rob Johnson, the Tennessee Department of Children's Services spokesman, said that the group of teens went outside into a yard shortly after shift change and made a break through the fence at around 11 p.m. Monday. Johnson was uncertain as to whether it was a planned escape.
According to AP, the center houses about 78 teenagers, most of whom have committed at least three felonies.
Read more at ABC News.